Happy Thanksgiving!
Saturday Night Live recently honored Fair City News by bringing "Catch the Swine Fever" to life in a sketch that aired nationwide on NBC November 7, 2009. The original FCN story posted April 28, 2009 and was picked up by SNL writers who comb the Internet's best satire websites searching for material.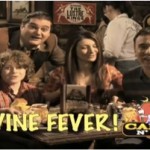 On Monday, contributing FCN writer John Mello reportedly left a voicemail for FCN founder Chad Harris that said, "I don't know if you saw it, but they totally stole our story".
According to Google analytics, writers for NBC's hit show Saturday Night Live regularly read faircitynews.com to find inspiration for their sketches and entertainment. The original FCN story is listed here, the SNL version here.
"The FCN article was hilarious and really helped to form our sketch 'Cater 'N Sons'. The BBQ theme, the advertising message gone bad, the doctor saying it will kill you, everything about it helped make one of the funniest sketches I've ever participated in," said Featured Player Bobby Moynihan, Jr.
SNL creator, Lorne Michaels, said, "Over the last thirty years, SNL has launched the careers of many of the brightest comedy performers of a generation. Since the launch of Fair City News, our show has been recharged. We hope to pay forward the favor by extending contracts to the writers of FCN."
When asked about concerns over copyright infringement Harris said, "it is a great honor to be recognized as a top tier comedic resource. I saw the sketch and they did a nice job with it, very funny. We encourage the staff at SNL to browse our pages seeking content for use in their program. However, don't even try to steal our writers without fairly compensating us first."
SNL regularly lampoons many aspects of contemporary American society, such as politics and popular culture. The program has won 19 Emmy Awards, been honored with the prestigious George Foster Peabody Award, cited as "truly a national institution." and was inducted into the Broadcasting Hall of Fame by the National Association of Broadcasters.
From:
http://www.faircitynews.com/2009/11/snl-honors-fcn/
==================
So this article was written by FCN, and so it's definitely from their perspective. However, it seems legit.
This hoopla is based on this little article, which isn't overly funny (but it made a funny SNL commercial):
http://www.faircitynews.com/2009/04/buckingham%E2%80%99s-%E2%80%9Ccatch-the-swine-fever%E2%80%9D-campaign-cancelled-due-to-poor-timing/
Enjoy!