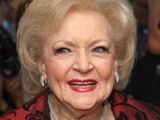 The former Golden Girls star guest hosted a special Mother's Day edition of the NBC series this weekend, which reportedly delivered the show's highest rating figures since November 2008.
Speaking to TMZ cameras as she headed to the official after-party in New York, the 88-year old quipped: "We got through it!"
..., she was joined by SNL creator Lorne Michaels and stars including Ana Gasteyer, Molly Shannon and Bobby Moynihan.
"She was just great. Absolutely great," said [Lorne] Michaels. "The best moment? Pretty much the whole night."
Moynihan agreed, calling White "the best moment of the whole show", while Gasteyer said: "She was incredible. She's still about 15 years old!"
Shannon added: "She was phenomenal. Just having her there, she is such a legend. She's amazing. She's the best. People are so excited."
White previously admitted that she had been initially hesitant about agreeing to appear on the show, but that her agent had convinced her it would be a great idea.
Read more:
http://www.digitalspy.com/ustv/news/a219309/snl-cast-praise-incredible-betty-white.html
==================================
Betty White boosts 'Saturday Night Live'
The 88-year-old TV legend attracted a 5.1 rating with adults 18-49 between 11.30pm and 1am, the show's highest figures since November 2008.
Read the specifics here:
http://www.digitalspy.com/ustv/news/a218986/betty-white-boosts-saturday-night-live.html
Enjoy!