Recurring characters on SNL:
Mark Payne
, a ghetto-acting white waiter who works at Pizzeria Uno. Wears a black do-rag and a black and blue button-down T-shirt featuring Sagara Sanosuke from the anime Rurouni Kenshin and always complains about inconsequential things around the pizzeria (the smell of pepper on the first sketch on the episode hosted by Michael Phelps; how sticky the bar counter is in the second sketch on the episode hosted by Tim McGraw). In the first sketch, Mark had a child that he left on a bus and didn't realize it until the end of the sketch. The child was never mentioned in the second sketch. Moynihan has said in interviews that the character is a tribute to his days of working as a bartender for almost 10 years.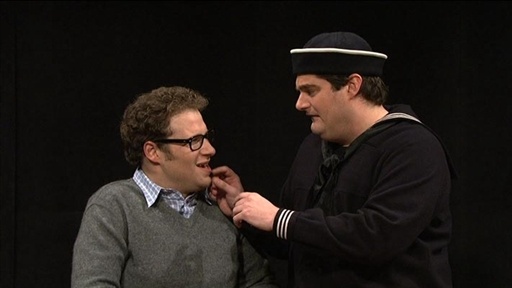 Vinny Vedecci Jr
, the son of Bill Hader's Italian talk show host, Vinny Vedecci. Wears a black and white child's sailor suit. Always wants to asks celebrities ridiculous questions, but the celebrities can't understand his broken English, which makes him cry (until Vinny gives his son a cigarette and a drink of wine).
Liam
, one of the kids in Gilly's (played by Kristen Wiig) elementary school class. It is often implied that he hates his stepfather.
Obnoxious Microphone Guy
, a very annoying man who attends parties and other events, will at some point steal the microphone from the emcee (usually played by Jason Sudeikis) and obnoxiously scream "WHAAAAAAAAAT!" into the mic before dropping it on the floor.
Scared Straight Kid
, one of the three young trouble-makers (along with Bill Hader and Andy Samberg) lectured by convict Lorenzo McIntosh (played by Kenan Thompson) and McIntosh's fellow inmates.
A$$ Dan
, a member of the Kick Spit Underground Rock Festival and winner of the Worst He-Man Impression Contest and the Mud-Eating Contest. Even though the Blake Lively/Rihanna episode established that he died in 2009 at the age of 28 (Ass Dan was born in 1981), he was brought back as one half of the Thrilla Killa Clownz (spoof on the Insane Clown Posse) on the episode hosted by Ryan Phillippe.
Commercial Actor
, In Tina Tina Chanuese's Commercials for Doorbells and More, Car Horns and More, and Alarm Clocks and More.
Enjoy!