This was one of the questions Seth Meyers answered during a SportsNation chat.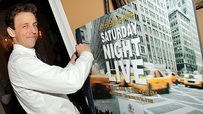 Amy (Ireland)
I did an interview with Bobby Moynihan and he mentioned that you wrote a Lost sketch that was cut from the finale. (a) How on earth was that cut?! (b) Can you spill any details about the sketch itself?
Seth Meyers (1:56 PM)
Alec Baldwin played a guy who was on the flight but had kept to himself since the crash because he didn't like how no one ever answered any questions. It was fairly cut.
Seth Meyers (1:56 PM)
But thank you for your support!
From:
http://espn.go.com/sportsnation/chat/_/id/33113/espy-seth-meyers
Enjoy!